Join us for our
Kindergarten Readiness Group!
Designed to help your child build connections while enhancing their social skills.
In this interactive group, children will have the opportunity to practice or gain foundational skills to set them up for success when entering Kindergarten in September 2023. This group is designed to give children some classroom experience before their first day of school.
(more details below)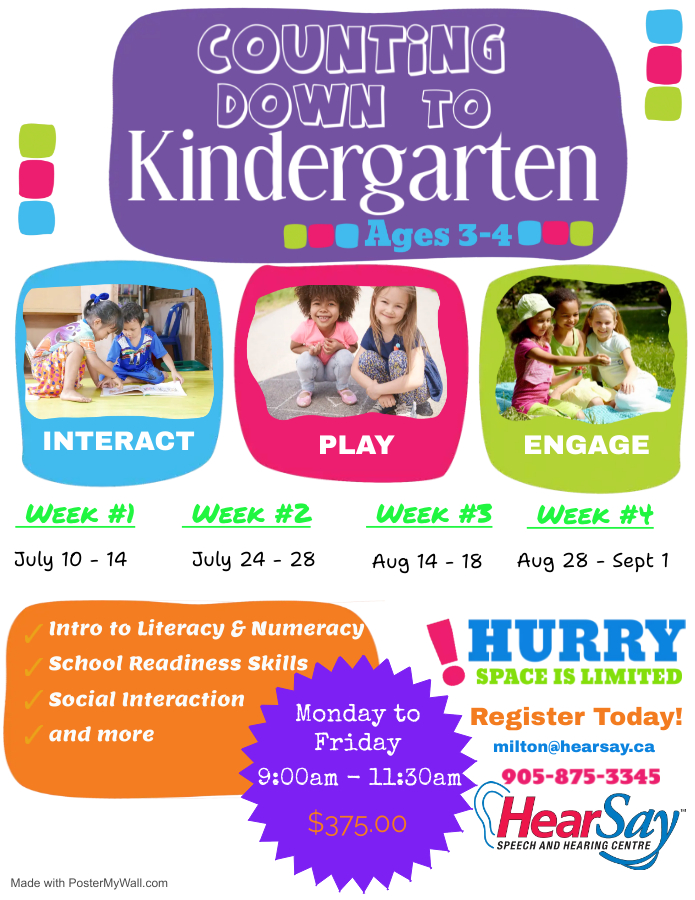 Children will be engaged in activities related to different areas of child development including:
Social & Emotional Development
Language and Early Literacy Skills
Listening Skills
Numeracy & Mathematic basics
Problem Solving
Self-control & Focus
Approaches to Learning
General Knowledge
With a focus on social connectivity, early literacy and emotional function, this group will motivate and guide your child to build on their momentum and prepare them for school.
Counting Down to Kindergarten will provide learning experiences where your child can thrive in an environment that encourages curiosity and exploration.
Register today to avoid disappointment! Space is limited
Click Here to Download the Registration Form
To complete registration, please submit forms to milton@hearsay.ca.
Fee to be charged at the time of registration to secure your spot.