Register today to avoid disappointment!
Space is limited
(see below for more information)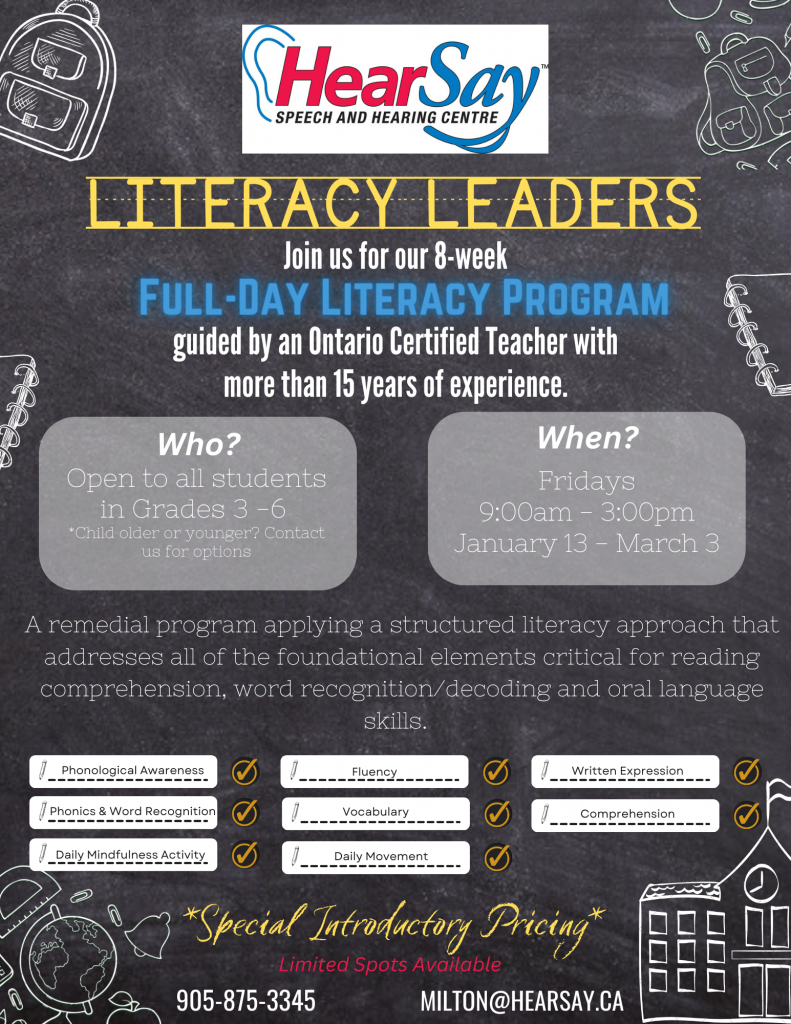 About
An 8-week remedial program applying a structured literacy approach that addresses all of the foundational elements critical for overall literacy development.
Literacy Leaders is conducted at HearSay Speech & Hearing Centre, in a safe and structured environment.
Literacy Leaders Program is only offered in Milton, On
Focus
A small group, in-person program, students will be able to practice applying their skills to reading, word recognition and oral language skills.
Skills taught include:
Phonemic Awareness
Phonics & Word Recognition
Decoding
Language
Spelling Strategies
Vocabulary
Fluency
Written Expression
Format
Students will be taught the same concepts with individual work assigned based on the student's individual reading level.
Students will participate in two 90-minute structured literacy intervention blocks along with daily movement, wellness, and mindfulness activities.
Classes are held on Fridays from 9:00am – 3:00pm
Student progress will be regularly monitored to ensure the skills learned are both accurate and fluent.
Program Costs
Literacy Leaders is guided by an Ontario Certified Teacher with more than 15 years of experience. The program is overseen by a registered Speech-Language Pathologist and as such, may be eligible for reimbursement by private insurance/group benefit plans.
Our introductory pricing is billed at rate of $312.50/day, which is below the recommended rate. Payment will be processed in 3 installments.
All movement, wellness and mindfulness activities are provided at no extra cost.
*Introductory pricing applies only to the group commencing January 2023*
Commitment
The program runs every Friday from 9:00am – 3:00pm for 8-weeks and includes 24+ hours of direct literacy intervention.
The first session begins Friday January 13, 2023 through Friday March 3, 2023
If requested, our instructors can provide documentation about the program to your child's school.
What to Expect
An intake meeting (by phone) will be scheduled with a parent/guardian to gather background information about your child to determine readiness for the in-person program. There is a $75.00 fee for the intake meeting.
If it is determined that a Placement Test is required to identify the knowledge, pace and skill level of your child, there will be an additional $150.00 fee.
Click Here to Download the Registration Form
To complete registration, please submit forms to milton@hearsay.ca.