Milton ROCKS
Rock Buckets for the Milton District Hospital
In April 2020 when the world was in quarantine, HearSay organized a hugely successful rock bucket fundraiser to raise money for essential equipment needed within our community hospital. The overwhelming support of the Milton community, including surrounding communities allowed us to surpass our estimated $4000 goal and raise $11,000 to donate to the Milton District Hospital which was a total of over 400 rock buckets hand-delivered to families across the Halton region.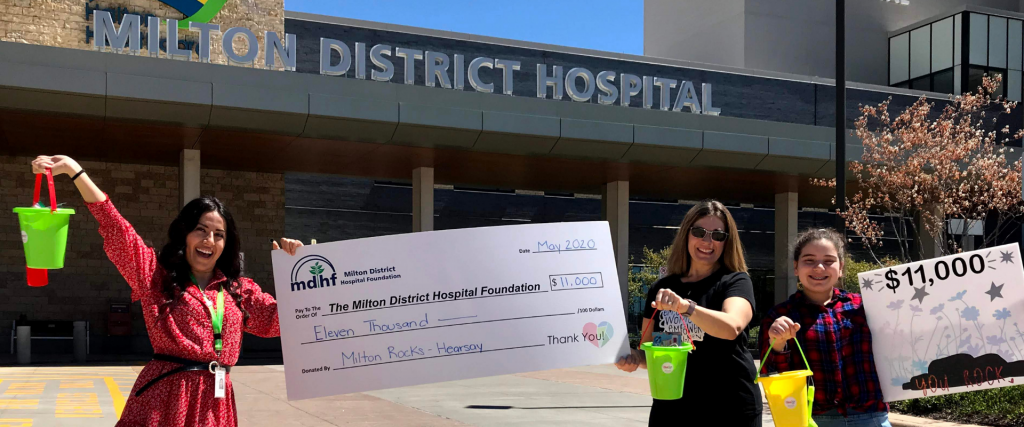 Yvonne Oliveira and her daughter Chloe present the Milton District Hospital with $11,000 by distributing rock bucket kits that could be painted and spread throughout the community to encourage
and inspire hope at the beginning of the global pandemic, April, 2020.
The HFK Smile Project
The HFK Smile project was initiated to propagate and acknowledge random acts of kindness throughout the Milton community. It was named after HearSay Director, Yvonne Oliveira's late father, Dr. Hugo Francis Kinkartz, who practiced dentistry all his life and literally made the smiles of his patients stand out and look beautiful. Thus, the HFK Smile Project was born. This initiative is a way to promote the sharing of random acts of kindness whether it be a smile to make someone's day brighter, a coffee for a stranger, donations to the Ukraine, or supporting your fellow neighbour during a rough patch.
During the trying time of the global pandemic, and other recent crises in the world, we can all be uplifted by every day acts of kindness which can essentially be a turning point for someone in need.
We encourage you to send us your stories so we can share them on our website and create a space to recognize the inspiring stories of the people, families and children within our community.